1. A brief review of the program for communication — Network Assistant
---
Network Assistant is a program for communicating ina local network without server. The last version (4.5.0.2668) released on May 25, 2009, created by developers from Ufa, Bashkortostan republic, Russia.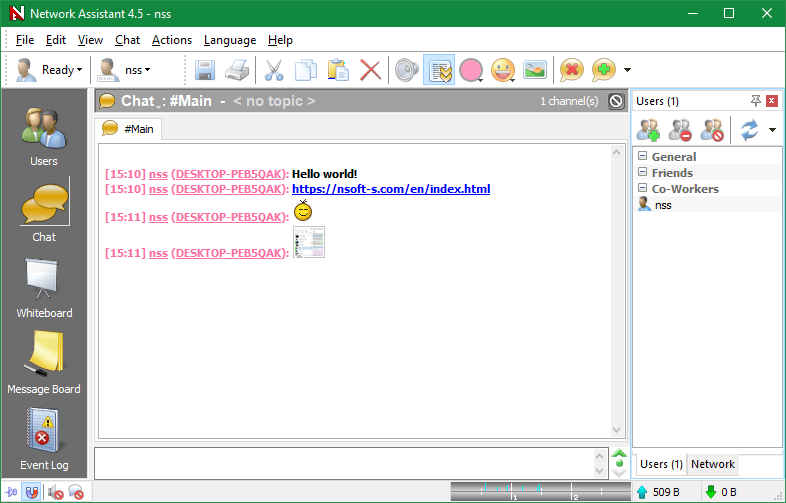 The program has not been updated for a long time, but the official website is working. The last changes made on December 23, 2019 року.
It should be noticed that developers did a good job with announcements and a common board for painting. These are well-made tools. Unfortunately, all advantages end with the fact that the program has no server. Nassi can work only in a small local network without segments and preferably without DHCP.
One copy costs from $25 to $15. The price depends on the number of licenses you buy. Special prices provided for Russian internet users.
In this article, we talk about some of the issues in this office messenger and offer a free alternative.
1.1. No digital signature
---
The installer has no digital signature and version number: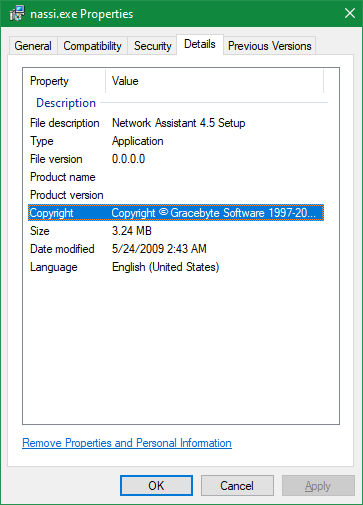 The installed program also has no digital singature: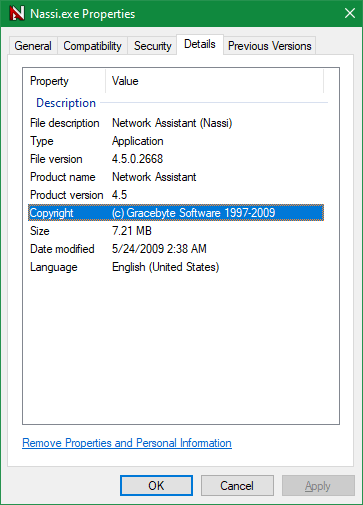 It causes problems with anti-virus software and privacy policies in most companies where such programs are not allowed.
1.2. Software requires administrator rights during installation
---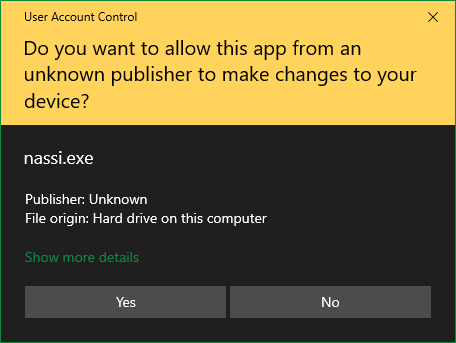 The installation performed in Program Files default. Elavated privileges: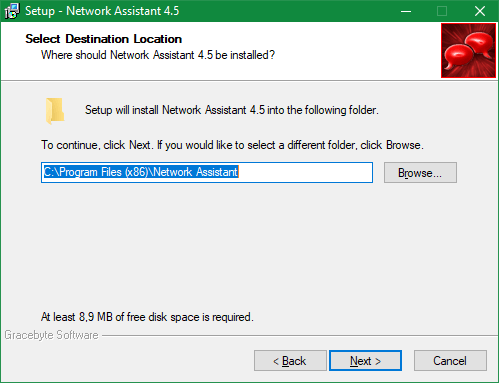 Moreover, it does not matter if you install the program in Program Files or any other folder, you still need elevated privileges. However, a good program should not require such rights because this is not a server.
1.3. Chat installer disadvantages
---
Nassi has no MSI for installing in a domain — it has a default installer only. Therefore, if you need to deploy the chat for a big number of computers at once, you have to do it manually. Nassi has no special keys for configuring the installation process unlike MyChat.
Another small inconvenience is when you switch the language, the program requires to restart :

If you try to switch to another task you won't be able to go back to the program — is located on a taskbar but it is impossible to press the button in this window because the program stubbornly does not want to display its window. The helpful solution is to delete it from the memory in Task Manager.
1.4. Network Assistant can't work with UNICODE
---
Network Assistant supports various interface languages. You can download packages for Belarusian, Ukrainian, Spanish, Bulgarian, and even Vietnamese languages for the interface language. Despite this, the chat does not recognize UNICODE-symbols in messages. Any phrases with international characters displayed "corrupted" after sending them in the chat: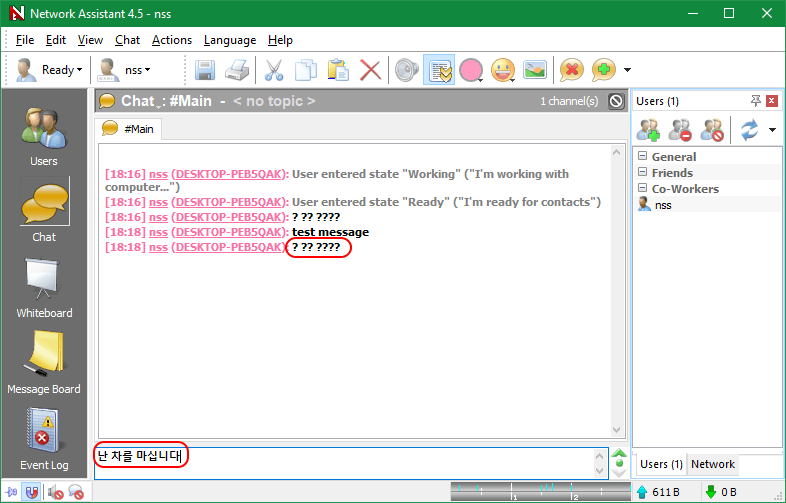 1.5. Sent messages get lost
---
Unfortunately, Network Assistant chat does not have means for controlling message delivery and statuses "sent" and "read" like in modern internet messengers or MyChat. Any sent messages can simply not be delivered to the recipient.
The response from the official support service in Russian (the forum does not work, this screenshot taken from web.archive.org):
The Admin says that if you send a large message when the network is overloaded, the message can get lost (because of UDP).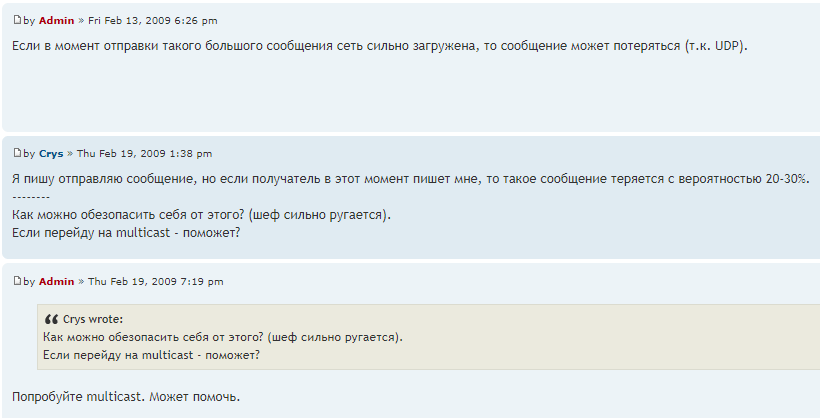 1.6. Bulletin board and required public opened shared network
---
Common Bulletin board is a very important tool, and Nassi developers knew that store it on clients is an unsafe option. A user's computer can be off and co-workers won't read an important announcement. That is why they decided to place the board on the shared network: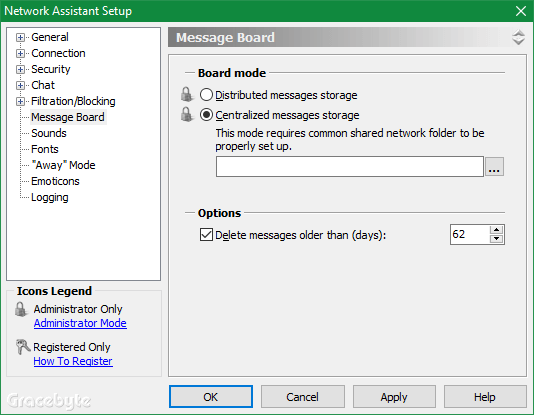 Notice, that this scheme won't work if you have a complicated network. Besides, you have to configure it for each user manually.
Let's just not talk about security solutions. We trust everyone or do not use this office chat.
1.7. Nassi in Ubuntu Linux
---
Because Network Assistant exists only for Windows platform. You can run it in Wine or Crossover but the program works unreliably, Linux users left with nothing. The program starts but the network part works incorrectly, nobody seen in the chat.
Users on Russian Ubuntu forum tried to make it work but nothing happened.
The best option is a native Linux program to avoid troubles with emulator.
1.8. Impossible message and file sending to offline users
---
Nassi has no server, thus, has no reliable authentication for users (everyone can rename himself and you will never know who it was). This is also a reason why you can't send a message or a document to an offline person.
For example, if an employee turned off the computer, he won't be displayed in the chat. Or he will b a "ghost", but these are disadvantages of the broadcasting.
1.9. Nassi does not work via NAT and proxy
---
UDP traffic not routed and the package "dies" as soon it starts on the router. You can't unite several network segments in one chat or connect external people via the internet, NAT, or proxy server, unlike MyChat or Jabber.
But this is not the program's error, but the limitation of the serverless technology of the Network Assistant office chat.
The only way out of this situation is using VPN, then external users will be like in one big virtual local network. You may need to make some efforts, but theoretically, you can make the chat work in this configuration.
1.10. Network Assistant chat and Windows Terminal Server
---
Long story short, it is impossible to run this chat on the terminal server because of the program feature. It takes UDP ports 50138, 50139 and TCP 50138, 50139 and it is a server and client at the same time.
Confirmed by the official support: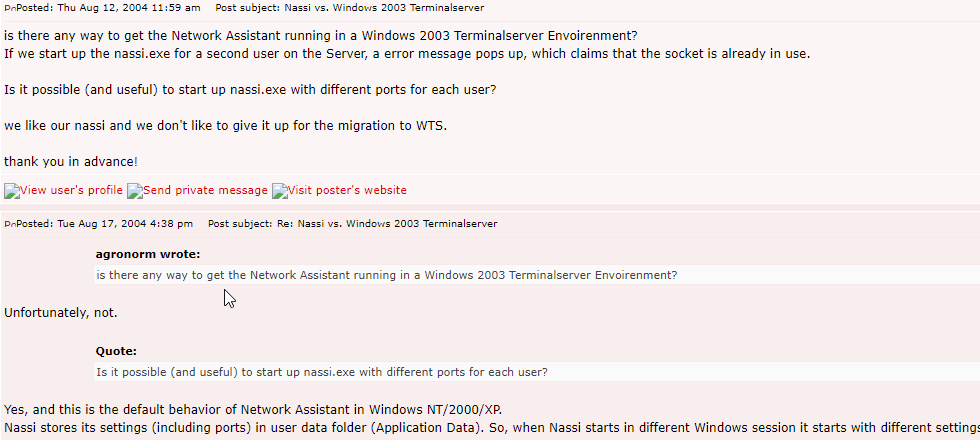 To make chat work in the terminal session it must connect to its server without taking fixed ports. However, at the same time, the client application must not require too many resources (this is a terminal environment where application copies work concurrently on the same server). It's worth mentioning, how it is done in MyChat on-premise messenger.
1.11. Issues with Nassi security
---
NA can work both via multicast and broadcast. But when UDP broadcasting is used, data broadcasted for all the network but not for the specified recipient only. Hence, a message can fall into the wrong hands because it is easy to get it on any computer in the local network.
Conversation logs and system messages not encrypted and stored open in the folder not encrypted and stored open in the folder %appdata%\Gracebyte Software\Network Assistant\Logs\ encoded as win1251:
1.12. Other flaws in Nassi
---
It is possible to send messages and file to yourself, but this is a common problem of serverless messengers for team collaboration.
Network Assistant automatic configurator incorrectly detects the network interface using Link-local address to do this: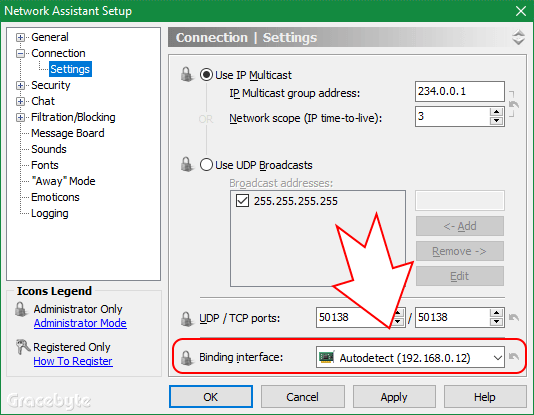 Obscene words filter provided. However, you need to configure the filter by yourself, manually, because it is empty by default: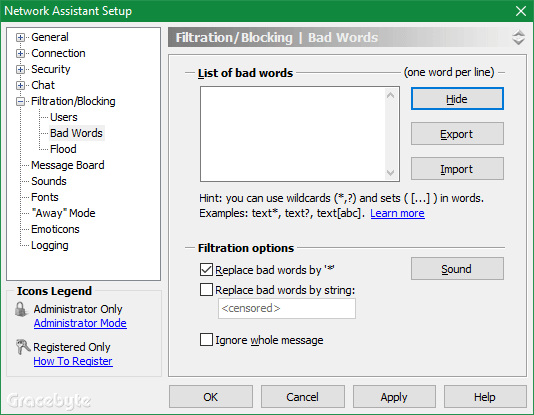 You can make ready lists and share them using the buttons "Export"/"Import".
Unfortunately, the chat has no simple calls as in Net SpeakerPhone, for example.
Image and photo exchanging is not provided as well. You can send them as files directly to specified users but not in the conferences.
2. Comparison of Network Assistant and MyChat self-hosted messenger
---
In the table below we compare basic features of Network Assistant (version 4.5.0.2668 from May 25, 2009) and MyChat 7.7 (free version) from August 21, 2019.
№
Ability
Network Assistant
MyChat
Installation, uninstallation and update system
1.1
Installer
Yes
Yes
1.2
Uninstaller
Yes
Yes
1.3
Automatic Installation
No
Yes
1.4
Automatic updating system
No
Yes
1.5
Automatic updating and saving of all the data when installing the latest version over the old one
No new versions
Yes
1.6
Portable version
No
Yes
Network settings
2.1
Work in large networks
No
Yes
2.2
Work in complex networks and via the Internet
No
Yes
2.3
Guaranteed message delivery
No
Yes
2.4
Work in terminal sessions
No
Yes
2.5
Traffic encryption
Yes, the algorithm is unknown
OpenSSL
2.6
Work in very bad networks (satellite connection, "long" pings)
No
Yes
Default functions
3.1
Private messages
Yes
Yes
3.2
Message statuses (received, seen)
No
Yes
3.3
Text conferences
Yes
Yes
3.4
Notifications with a return receipt
No
Yes
3.5
Common Bulletin board
Yes
Yes
3.6
File transfer
Yes
Yes
3.7
Images transfer
No
Yes
3.8
Automatic backlight for links in a text
Partially
Yes
3.9
Messages history view
Yes
Yes
3.10
Event sound notification
Yes
Yes
3.11
Personal contact list
No
Yes
3.12
Sending messages and files to offline users
No
Yes
3.13
Graphic smileys
Yes, static
Yes
3.14
Voice calls
No
Yes
3.15
Video calls
No
Yes
3.16
Screen sharing
No, but you can view another user screen
Yes
Active Directory integration
4.1
MSI package to deploy users via Group Policy
No
Yes
4.2
User transparent authorization
No
Yes
4.3
Importing users from the Windows domain
No
Yes
4.4
Support for any amount of various domains
No
Yes
4.5
Collaboration between common and domain users
No
Yes
Appearance configuration
5.1
GUI languages
Yes
Yes, UNICODE
5.2
Appearance customization
Yes
Yes
5.3
Font changing
Yes
Yes
Administration
6.1
Centralized configuration of user rights and restrictions
No
Yes
6.2
User Groups
No
Yes
6.3
Obscene words filter
Yes
Yes
6.4
IP, MAC, Hardware ID filters
Yes, IP only
Yes
6.5
Anti-spam and anti-flood filters
Yes, anti-flood only
Yes
6.6
User management system
No
Yes, WEB interface
6.7
Detailed reference information about users (Full name, email, phone numbers, date of birth, photo, etc.)
Yes
Yes
Operating systems
7.1
Windows
Yes
Yes
7.2
Android
No
Yes
7.3
Linux
No
Yes
7.4
Mac
No
Yes
7.5
WEB
No
Yes
Additional abilities
8.1
User network status "free", "busy", "away"
Yes
Yes
8.2
Scripting language to write simple programs which extend chat abilities
No
Yes
8.3
Integration with external services
No
Yes (1С, phpBB, REST, php, C#, Delphi, Python, etc.)
8.4
User search system
No
Yes
8.5
Tree-like contact list that is common for the whole network with an unlimited nesting level
No
Yes
8.6
Account manager for several users who work on the same program
No
Yes
8.7
User ignore system
Yes
Yes
8.8
Plug-in system to extend program abilities
Yes
Yes
8.9
Company department list
No
Yes
8.10
Company work position list with the sorting "superiors from above" in the contact list
No
Yes
8.11
Built-in forum
No
Yes
8.12
Task management
No
Yes, Kanban
8.13
Website chat
No
Yes
8.14
Distrib Maker
No
Yes
Technical support
9.1
Built-in help system
Yes
Yes
9.2
Community support forum
Does not work
Yes
9.3
Developers support via email
Unknown
Yes
9.4
Additional reference information, articles about the program use on the website, blog, etc.
No
Yes
9.5
Developers support via Skype, Viber, Telegram, WhatsApp
No
Yes
3. Recommendation regarding switching to MyChat
---
Why? Network Assistant chat is only suitable for small local networks with no segments. It does not work over the internet, you can't connect users to it remotely. The program has no updates, no problem fixes, no support for modern operating systems and mobile platforms — Android and iOS. There is no versions for macOS, Linux, and WEB.
The main disadvantage is the absence of the centralized server and system for user management. No calls and reliable system for storing and syncronizing message history.
How to switch to MyChat? For small companies and budget-limited organisations such transfer from Nassi to MyChat is a logical move. It is completely free.The default license of MyChat up to 20 onluine users is free, with no trial period. MyChat updates are free too.
For organizations with a limited budget it is a good decision during the crysis. You can save money on licenses and the administrator salary.
Prices. The commercial version is for those who have more than 20 employees in a team/ The client applications are free. One concurrent connection costs $6. One year of updates included in the license price. . Programs that are purchased individually are MyChat Guest and Distrib Maker for custom setup files, and the Quiz bot.
Decent support service. We provide support during the business day via email and popular messengers. Our official support forum.
How long you've been working? MyChat enterprise messenger development started in 2004. During this time we developed voice and video calls, applications for all popular OS, Kanban project management, internal forum and file server. We implemented integrations with 1C, Telegram, phpBB, and popular programming languages. Updates are stably released 5-6 times a year.
More than half a million real users from Ukraine, Russia, Belarus, Kazakhstan, USA, Canada, Australia, India, Poland, Great Britain, etc.