1. A brief review on LAN Messenger
---
LAN Messenger is a free program to chat and exchange files in small local networks. It's serverless and has versions for Windows, Linux, and macOS. You can't use it in different subnets or over the Internet because it is not a client-server.
Unfortunately, the program development stopped, the very last version was released on July 25, 2012:

2. A brief review on LAN Messenger problems
---
We should admit that LAN Messenger deals well with its main function: it connects a couple of dozens of employees in a small local network quickly and for free.
There are problems with anti-virus software, firewalls, and user visibility (no centralized server). But in general — the program does its job.
We are going to take a look at the main problems that can't be solved due to technical reasons or just because LAN Messenger development stopped.
2.1. UAC, digital signature, and elevated privileges
---
Unfortunately, the program installer requires elevated privileges and does not have a digital signature:
Without administrator rights, you can't launch LAN Messenger and there is no portable version. The setup file requires elevated privileges because of two reasons: by default, the program is installed in the "\Program Files":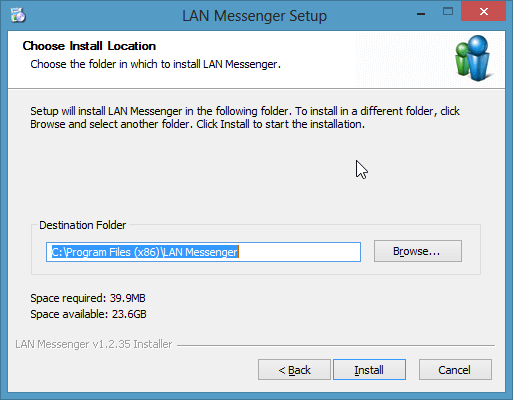 + it adds all TCP and UDP ports for the lmc.exe application to the Windows Brandmauer exception list.
2.2. Messenger does not see other computers in the network
---
This problem is based on the local messenger architecture. LAN Messenger does not have a centralized server and it is forced to check for its users in a local network with a help of UPD broadcast messaging periodically.
This is not reliable. For example, the situation when the chat is launched but you can't see a person in your contact list because the contact list updates automatically but not instantly. To see each other users have to press F5:
It should be mentioned, that if a user is offline you can't message him: there are no such things as offline messages and files in LAN messenger.
2.3. Settings and problems in terminal sessions
---
Message history and received files are stored in a Windows user profile folder. But settings are stored in the "C:\Users\%USERNAME%\AppData\Roaming\LAN Messenger\LAN Messenger.ini" — it means that Windows virtualizes the folder because the program tries to write the file to the \AppData which is not allowed.
The program is full of such contradictions: reliable SQLite is used to store message history but the unoptimized set of Qt library increases the size of installed chat to 40 megabytes.
Unluckily, the UDP Broadcast technology makes LAN Messenger work impossible in terminal sessions. The program won't work because the first launched copy will take 50000 TCP and UDP ports. The next copies that you try to launch in the terminal server environment won't work — ports will be busy.
2.4. Message history is present but not loaded in the chat window
---
Trying to exchange messages in the private dialogue. The notification about typing is provided which is good: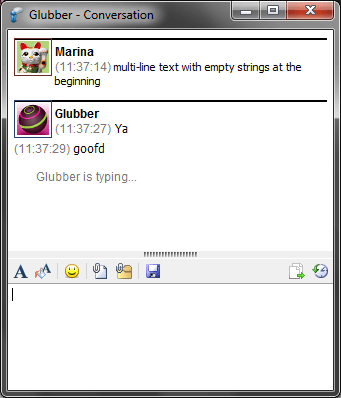 Closing the window and then opening a conversation with the same person: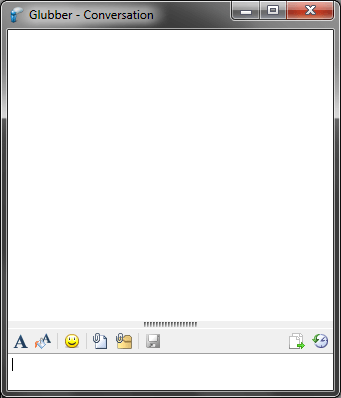 The program is not even trying to show us the old messages. If you need it — go to the history section where all messages are mixed up with dates and time but not sorted by people: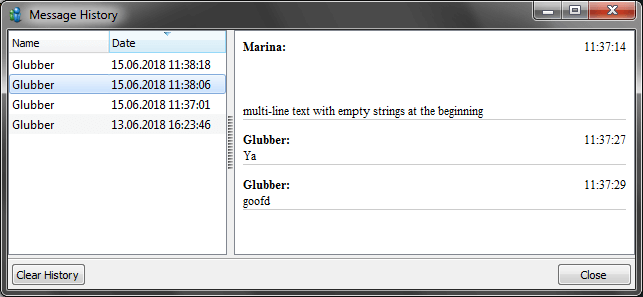 We noticed an unpleasant moment: if a message has empty strings at the beginning and end then the chat will "cut" them to not show garbage in the message window. However, the history shows all these spaces and the reading becomes difficult.
It's weird that the message history is not saved in the common chat (there is no button to get it):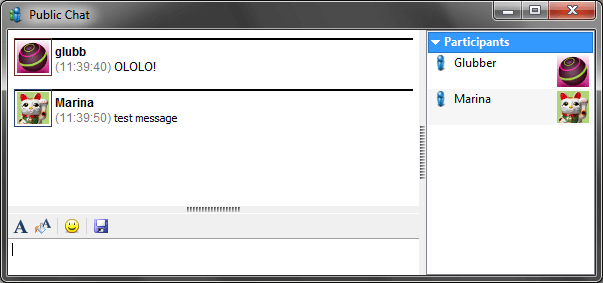 2.5. Impossible to send messages or files to offline users
---
If a user is offline he will not receive your message. Messages are visible in the common chat only if your chat is launched. As soon as you exit the program you will lose all messages: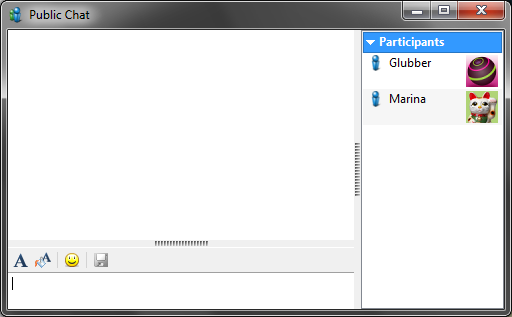 And if you need to write a message or send a document to an offline user you won't be able to do this because he disappears from your contact list. Even if you leave the window of your private conversation open the message still won't be sent: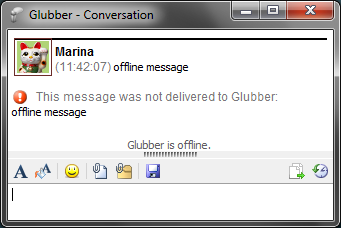 What is more, this message remains in your history but not in a receiver's history (even if he connects again when you are online). The program should synchronize them by logic but it can't do it.
2.6. Notification about incoming messages
---
Another weak side of LAN Messenger is notifications: you need to open the program to check for new messages: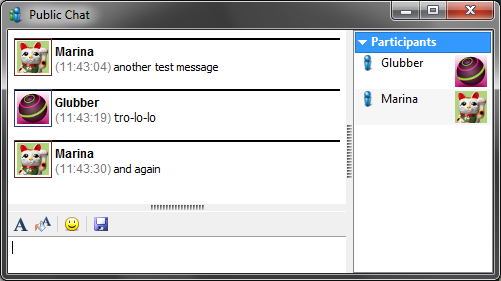 But if someone enters or exits the chat you will see the pop-up notification: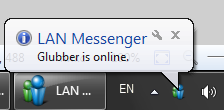 With 20-30 online users, there will be a lot of notifications that you can't disable, by the way. Well, you can turn off everything at all but then you are at risk to miss important messages.
2.7. Windows, windows, more windows
---
Another contradiction that amazes us. The settings window is constructed in quite a good way — it is modal. It means that you can open settings, do what you need and close the window (the main program is unavailable during these actions). Such a window is the only one.
The program itself is a big number of windows for various actions: separate dialogues, conferences, common chat rooms, user information, etc. All those windows are located on your desktop and you have to close them one by one.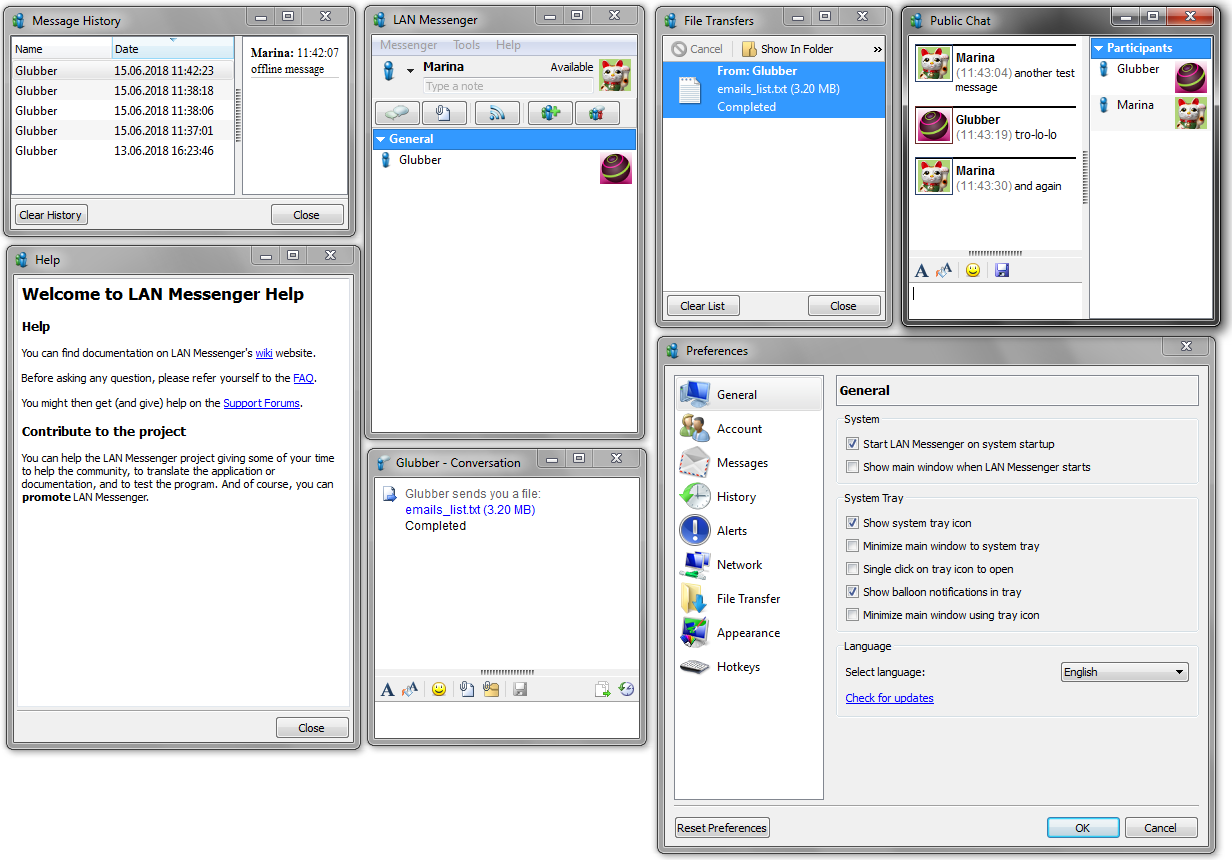 If you minimize the program's main window to the tray other windows will remain in the same position. In that case, the most convenient solution is to exit the program and launch it again.
LAN Messenger does not have a hotkey, so you need to mouse-click on the icon to call it from the system tray.
2.8. Impossible to send images to chat
---
The program has the color spectrum to markup links and you can open them in a browser, but there is no image transfer. You can only send them directly as files.
Also, there is no integration with Explorer: you can't copy files by Ctrl+C and paste them in the chat — LAN Messenger does not have such a feature.
2.9. Files and conferences
---
You can't exchange documents in conferences — it's possible only in private dialogues. In other words, if you need to send a document to the department of 10 people you have to do it separately for each person.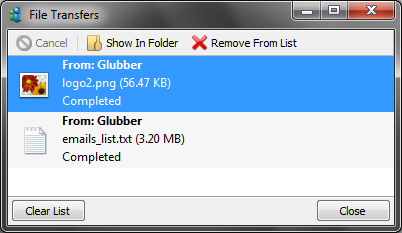 Sending an email will be more comfortable than this inconvenient procedure.
2.10. Interface flaws
---
You can get used to it but if you use the program every day it's getting annoying.
Clicking on the status change button does nothing — you have to target the right part of the button that opens the status menu.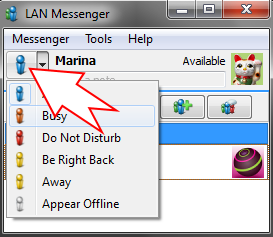 If you exit the program and launch it back — a status won't change. Although, users often forget about changing their status. For example, you set "Do Not Disturb" status, shut down your computer (or put it in sleep mode) at the end of the day, and the next day you did not receive a single notification.
It's happening because the program did not set the "Available" status after restarting or opening the laptop.
2.11. Security issues
---
LAN Messenger does not have any authentication mechanisms. No logins/passwords or checks for user authenticity. It is also easy to rename yourself and show up as a different person for other users.
No system for rights and permission: you can see the IP address and computer name of another user which is unacceptable: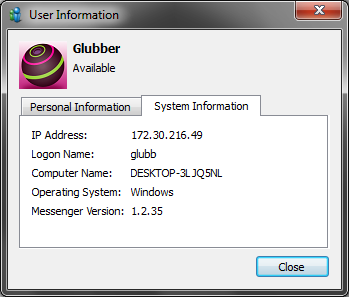 Messages are encrypted by an unknown algorithm whose reliability is doubtful. Developers say on the website that it's AES with a key exchange via RSA. But it is still unclear how those keys are generated, what is their size, and how reliably the client authentication is performed.
besides, Wireshark shows that even a simple message for 3 words has almost 1 kilobyte in size of incoming and outgoing traffic: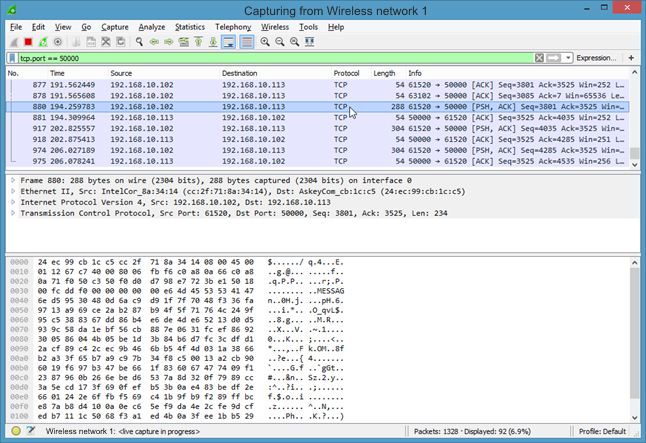 Take this in mind if you are going to use LAN Messenger on a big network. It will generate a large amount of garbage traffic due to its architectural peculiarities.
2.12. The help won't help you
---
There is no Help in LAN Messenger: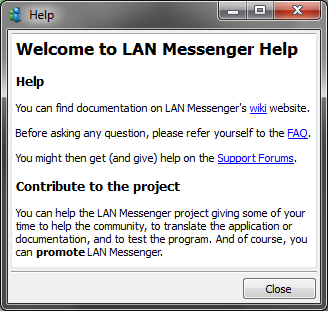 All links are invalid: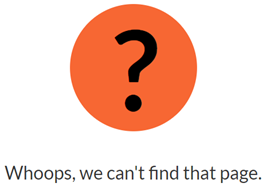 The Help was not integrated with the program — it was located on the Internet. It's a little bit weird for a product that considers itself an internal local messenger.
Official support forum does not work: users are left alone with their problems and questions.
2.13. Uninstaller does not delete all files
---
Unfortunately, you have to do cleaning after the LAN Messenger uninstaller manually.
The uninstaller leaves the "C:\Users\%USERNAME%\AppData\Local\LAN Messenger\LAN Messenger\group.cfg" file in the Register for Autostart: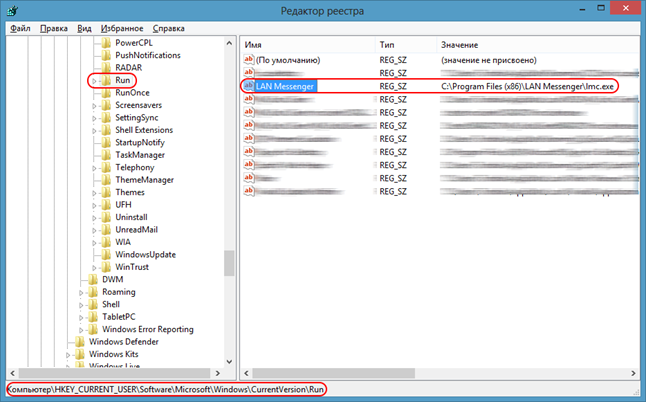 3. Comparison of LAN Messenger and MyChat program for corporate communication
---
Take into consideration three main facts:
LAN Messenger development stopped in 2012. If you are still dealing with this program — look for a good alternative.
LAN Messenger is a peer-to-peer chat, with a minimum of settings and no central server. It's a good solution for small local networks with 10-20 computers. But still unreliable.
Without client-server technology, you won't get reliability, management, and ability to work in multi-segment corporate networks or over the Internet.
In the table below we compared the basic functions of LAN Messenger version 1.2.35 and MyChat 7.0 (free version) on June 12, 2018.
№
Ability
LAN Messenger
MyChat
Installation, uninstallation and update system
1.1
Installer
Yes
Yes
1.2
Uninstaller
Yes
Yes
1.3
Automatic Installation
No
Yes
1.4
Automatic updating system
No
Yes
1.5
Automatic updating and saving of all the data when installing the latest version over the old one
No new versions
Yes
1.6
Portable version
No
Yes
Network abilities
2.1
Work in large networks
No
Yes
2.2
Work in complex networks and via the Internet
No
Yes
2.3
Message guaranteed delivery
No
Yes
2.4
Work in terminal sessions
No
Yes
2.5
Traffic encryption
Unknown,unreliable
OpenSSL, industrial standard
2.6
Work in very bad networks(satellite connection, "long" pings)
No
Yes
Default functions
3.1
Private messages
Yes
Yes
3.2
Text conferences
Yes
Yes
3.3
Notifications with a return receipt
No
Yes
3.4
Common Bulletin board
No
Yes
3.5
File transfer
No
Yes
3.6
Images transfer
Yes, online
Yes
3.7
Automatic backlight for links in a text
Yes
Yes
3.8
Messages history view
Yes
Yes
3.9
Event sound notificaton
Yes
Yes
3.10
Personal contact list
Yes
Yes
3.11
Sending messages and files to offline users
No
Yes
3.12
Graphic smileys
Yes, but limited
Yes
Active Directory integration
4.1
MSI package to deploy users via Group Policy
No
Yes
4.2
User transparent authorization
No
Yes
4.3
Importing users from the Windows domain
No
Yes
4.4
Support for any amount of various domains
No
Yes
4.5
Collaboration between common and domain users
No
Yes
Appearance configuration
5.1
GUI languages
Yes, UNICODE
Yes, UNICODE
5.2
Appearance customization
No
Yes
5.3
Font changing
Yes
Yes
Administration
6.1
Centralized configuration of user rights and restrictions
No
Yes
6.2
User Groups
No
Yes
6.3
IP, MAC filters
No
Yes
6.4
Anti-spam and anti-flood filters
No
Yes
6.5
User management system
No
WEB interface
6.6
Detailed reference information about users (Full name, email, phone numbers, date of birth, photo, etc.)
No
Yes
Operating systems
7.1
Windows
Yes
Yes
7.2
Android
No
Yes
7.3
Linux
Yes
Yes
7.4
Mac
Yes
Yes
7.5
WEB
No
Yes
Additional abilities
8.1
User network status "free", "busy", "away"
Yes
Yes
8.2
Scripting language tow write simple programs which extend chat abilities
No
Yes
8.3
Integration with external services
No
Yes (1С, phpBB, REST, php, C#, Delphi, Python etc.)
8.4
User search system
No
Yes
8.5
Tree-like contact list that is common for the whole network with an unlimited nesting level
No
Yes
8.6
Account manager for several users who work on the same program
No
Yes
8.7
User ignore system
No
Yes
8.8
Plug-in system to extend program abilities
No
Yes
8.9
Company department list
No
Yes
8.10
Company work position list with the sorting "superiors from above" in the contact list
No
Yes
Technical support
9.1
Built-in help system
No
Yes
9.2
Community support forum
No
Yes
9.3
Developer support via email
No
Yes
9.4
Additional reference information, articles about the program use on the website, blog, etc.
No
Yes
9.5
Developers support via Skype, Viber, Telegram, WhatsApp
No
Yes
4. Recommendation on moving to MyChat
---
LAN messenger company intranet chat has not been developing for a long time; the compatibility with new operating systems becomes worse; no perspectives for mobile OS support. The program replacement is just a question of time.
It will be easy to move from LAN Messenger to MyChat because for small companies up to 20 online users there is a free standard MyChat license with some insignificant limits (what is the difference between commercial and free MyChat versions?).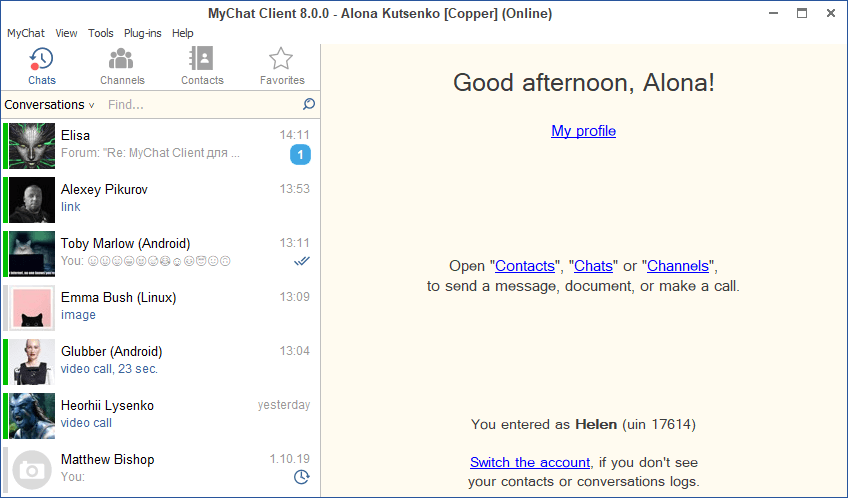 For bigger enterprises with 20 users and more, you should compare prices of MyChat closest competitors such as Skype for business or TrueConf.
The MyChat license agreement is quite loyal. One online user costs $6. Starting from the date of purchase you get one year of free updates and then you can chose whether to pay $2 per user or stay on the existing license for an unlimited amount of time (the server will still work). Notice that almost all MyChat Services are included in this price (except MyChat Guest and Distrib maker).
MyChat has a long development history since 2004. New versions are released 5-6 times a year.
Take advantage of the speed and quality of the MyChat official support forum. Our team is always ready to help you!