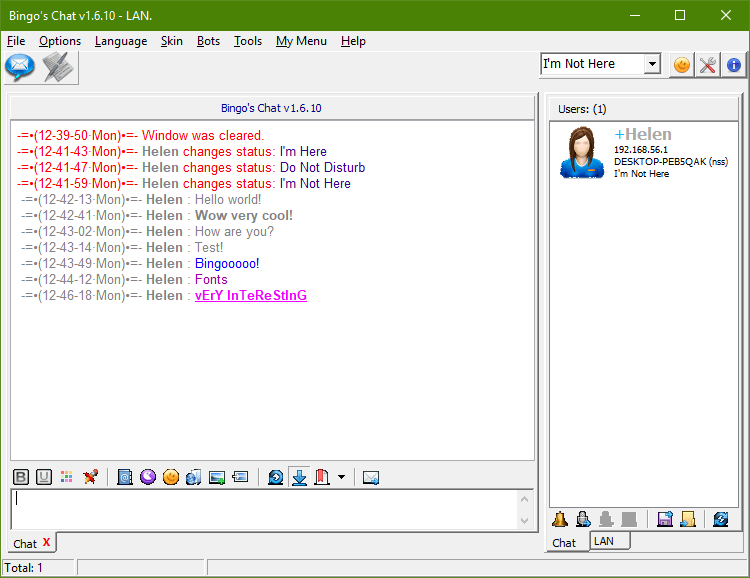 Bingo's Chat is a closed software for small local networks without the server. Each program is a client and server at the same time. Bingo's Chat works via UDP (broadcast or multicast). All chat members are equal, and there is no rights system or restrictions.
Though the product itself is free, it has еру ability to buy the administrator rights for 1 thousand rubles ($15.40), or 600 rubles, as the price on the website differentiates on the same page: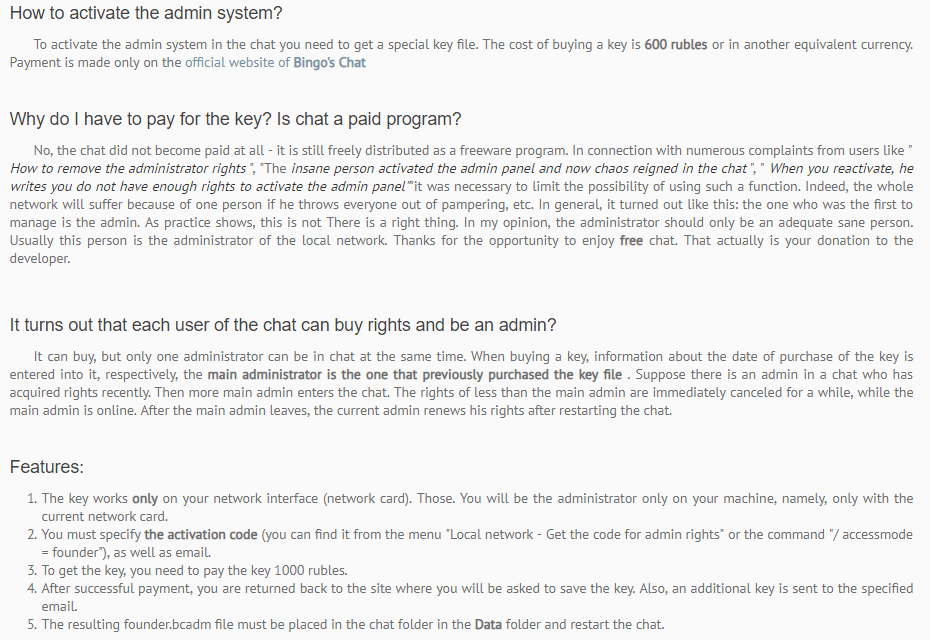 Developers do not sell keys anymore. There can be only one Administrator. The technology of Admin "importance" is bizarre.
Bingo's Chat has not been updated since 2010.
The official forum does not work: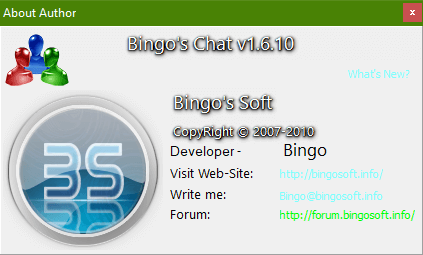 The program has interesting features. For example, work with Text2Speech engine, bots, IRC support. However, IRC was removed in the last versions.
The review is written for the latest version available — Bingo's Chat 1.6.10 from November 6, 2010. We compared it with a free version of MyChat enterprise messenger 7.6 from July 12, 2019. Also, we described Bingo's Chat issues and explained why you should switch to MyChat.
1. A brief review of Bingo's Chat issues
---
In general, this is a bunch of errors and flaws that are inherent for all abandoned projects. These are issues with UNICODE, absence of digital signatures, "garbage traffic", interface bugs, technology flaws, technical restrictions and other bugs that users of this software suffer from. With screenshots and detailed explanations.
1.1. Problems with the installer. No digital signature, UAC privileges
---
The installer setup file does not have a digital signature, and it requires elevated privileges to start: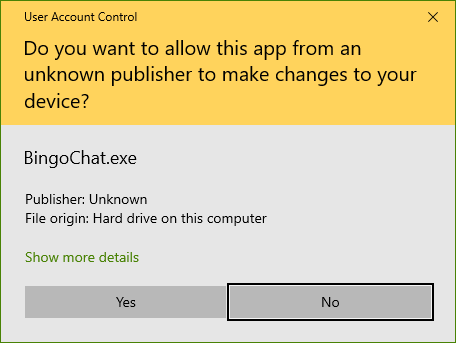 By default, Bingo's Chat wants to install in Program Files, perhaps, that's why it requires elevated privileges. But the program can be installed in another folder as the installer allows doing so:
A bit strange, that a setup file and the application itself have the same names — BingoChat.exe.
The bad thing, that the program is also without digital signature. Most companies do not allow installing such software due to security policies.
1.2. No UNICODE support
---
Bingo's Chat can't work with UNICODE encodings. Messages will be messed up after you send them: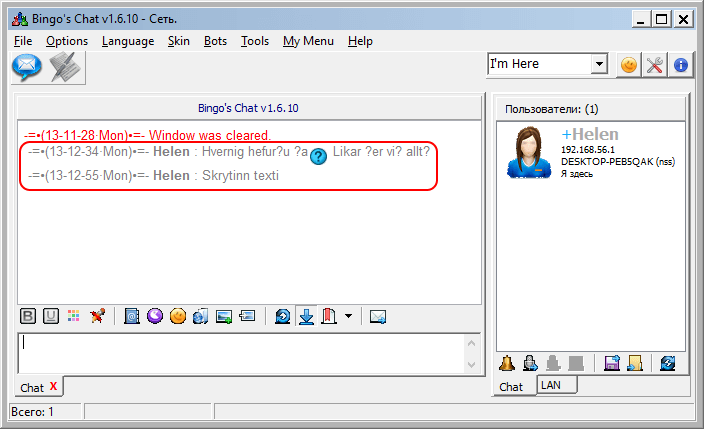 Copying and pasting text from another software to Bingo's Chat works incorrectly. You won't be able to insert the text in English, not to mention hieroglyphs, etc.: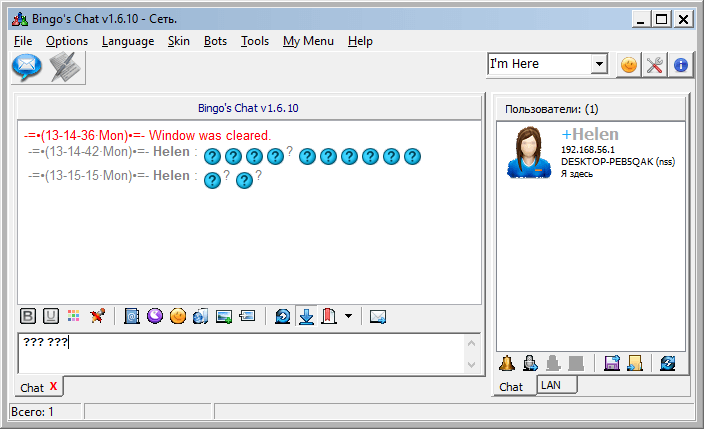 1.3. "Garbage" traffic, broadcast problems
---
The application was developed to work without the server, and your network will be filled with unnecessary broadcast traffic. More client applications, more "garbage":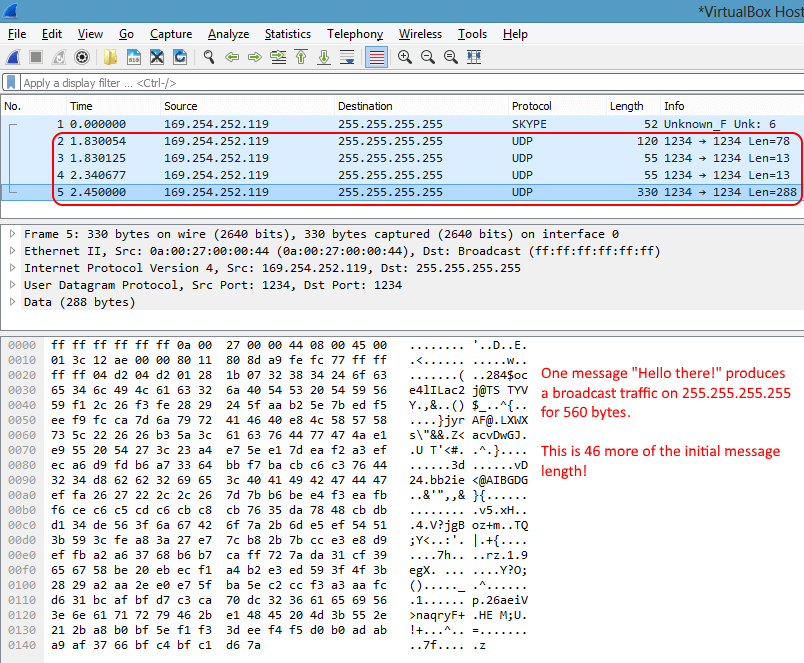 However, this is the least of the problems.
Another problem is that you can't work via the Internet. You can't link remote offices of your company, because Bingo has no one server, and it can't work behind the NAT and proxy. The only way in such a situation is VPN tunnels based on third-party services such as Hamachi or, for example, OpenVPN.
The third problem is the absence of proper administration. You won't have centralized storage for conversations, one system of rights and restrictions, users actions audit. Complete anarchy. It is not a problem for domestic networks, but it is for business.
1.4. Security issues
---
Because the chat uses broadcasts (moreover, by default, UDP Broadcast goes on 255.255.255.255, not IP Multicast), the data often broadcasted for the whole network, not a specific recipient. It means messages can get into the wrong hands.
Nothing is clear about message encryption. No information neither in the Help nor on the website.
All conversations are not encrypted and stored for the public access in the folder C:\Program Files (x86)\Bingo's Soft\Bingo's Chat\Logs
The program's EXE-file is compressed by EXE compressor Petite, and require more memory consumption for its start.
Bingo's Chat launches own HTTP-server on the port 1233, where all files you have ever sent are in a public domain: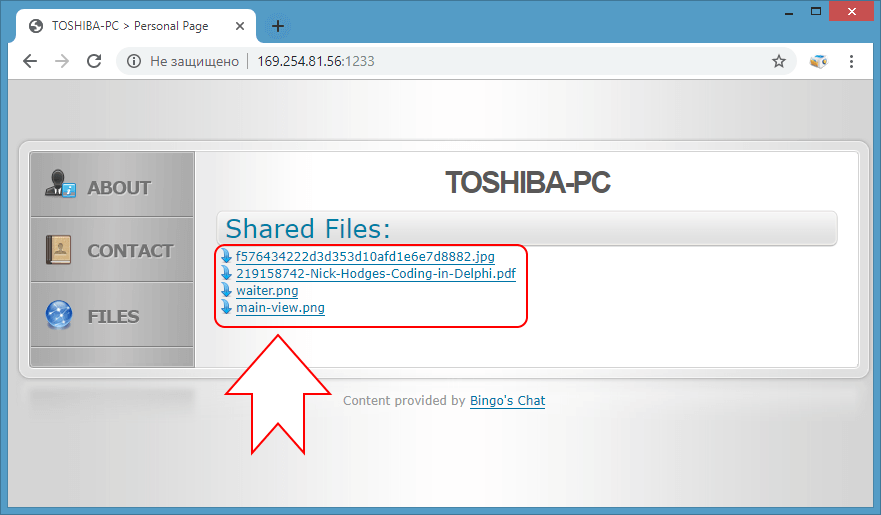 A link at the bottom of the screen (http://bingosoft.info/en/page/bingos-chat/) goes nowhere: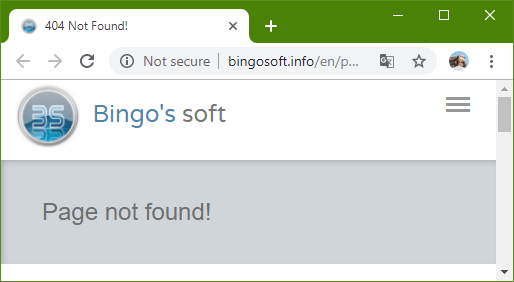 1.5. Bingos'Chat interface flaws
---
The history does not load after restart (but it exists):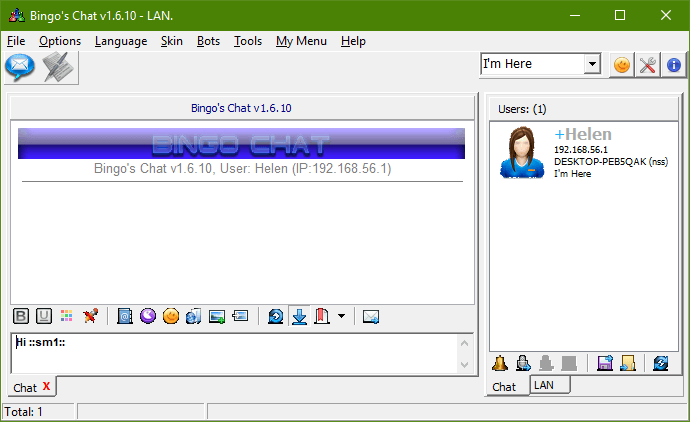 During the attempt of choosing a file on a network disk: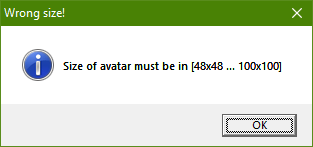 "Make ScreenSnap" does not work: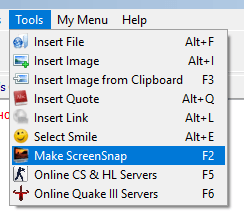 No control for dates boundary values: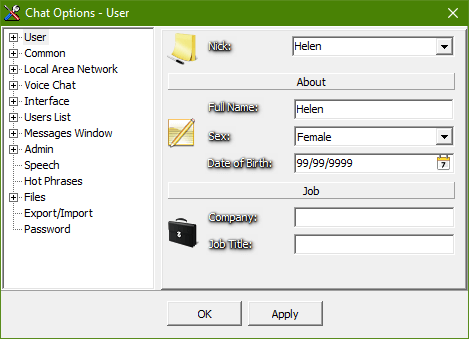 The skin switches one to another sometimes in data request windows: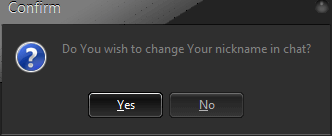 Weird things happen for messages that described nowhere:
If you press the button "Insert link" (Alt+L), you can see the following: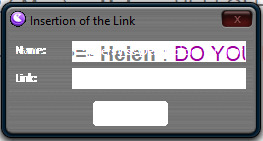 There are empty lines in the program which painted in black and which purpose is unknown: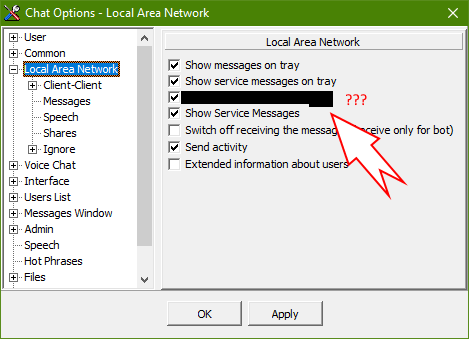 The system for configuring hotkeys does not control duplicates and does not allow using buttons "Shift" and "Win" for combinations:
1.6. Problems with inserting pictures in the chat
---
If you insert a picture, then the interface of the main window gets "broken":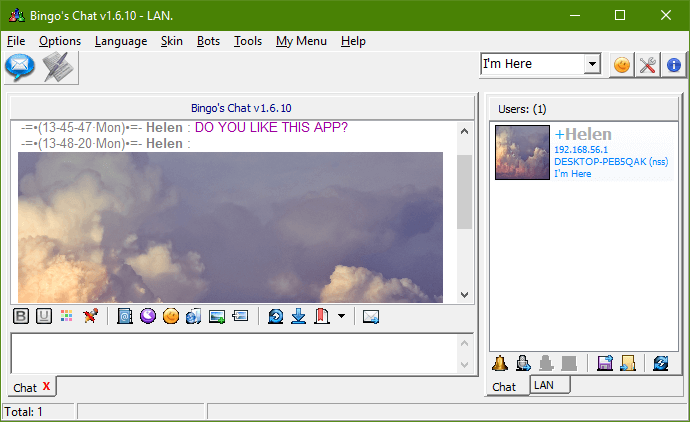 Moreover, window minimizing/maximizing does not help:
It is impossible to insert PNG file, but if you write the mask *.png manually in the inserting window then it works out. However, after inserting a picture, it starts blinking a couple of times per second. Why this happens is unclear: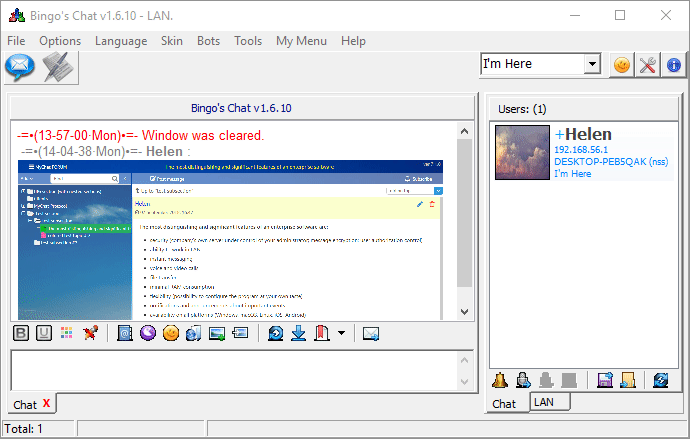 If you insert a picture in the chat (from the clipboard using F3 of from a file), then no message window scrolling happens. But if you write a simple text — everything is okay.
1.7. Bingo's Chat and Windows terminal server
---
A lot of companies use Windows terminal server for their employees' work. Unfortunately, Bingo's Chat was not able to launch in a terminal environment because of two problems.
Firstly, the application takes the same ports for its work (they can be configured for each user individually).
Secondly, the program does not distinguish configuration for users' personal profiles. You have to install as many chat copies as many terminal users you have. Though the update question is not relevant as there are no new versions.
2. Comparison of Bingo's Chat and MyChat intraoffice messenger
---
In the table below we compare basic abilities of Bingo's Chat 1.6.10 from November 6, 2010, and MyChat 7.6 (free version) from July 12, 2019.
№
Ability
BORGChat
MyChat
Installation, uninstallation and update system
1.1
Installer
Yes
Yes
1.2
Uninstaller
Yes
Yes
1.3
Automatic Installation
No
Yes
1.4
Automatic updating system
No
Yes
1.5
Automatic updating and saving of all the data when installing the latest version over the old one
No new versions
Yes
1.6
Portable version
No
Yes
Network settings
2.1
Work in large networks
No
Yes
2.2
Work in complex networks and via the Internet
No
Yes
2.3
Guaranteed message delivery
No
Yes
2.4
Work in terminal sessions
No
Yes
2.5
Traffic encryption
Yes, unknown
OpenSSL
2.6
Work in very bad networks (satellite connection, "long" pings)
No
Yes
Default functions
3.1
Private messages
Yes
Yes
3.2
Message statuses (received, seen)
Yes, partially
Yes
3.3
Text conferences
Yes
Yes
3.4
Notifications with a return receipt
No
Yes
3.5
Common Bulletin board
Yes
Yes
3.6
File transfer
Yes
Yes
3.7
Images transfer
Yes
Yes
3.8
Automatic backlight for links in a text
Partially, except local links
Yes
3.9
Messages history view
Yes
Yes
3.10
Event sound notification
Yes
Yes
3.11
Personal contact list
Yes
Yes
3.12
Sending messages and files to offline users
No
Yes
3.13
Graphic smileys
Yes
Yes
3.14
Voice calls
Yes
Yes
3.15
Video calls
No
Yes
3.16
Screen sharing
No
Yes
Active Directory integration
4.1
MSI package to deploy users via Group Policy
No
Yes
4.2
User transparent authorization
No
Yes
4.3
Importing users from the Windows domain
No
Yes
4.4
Support for any amount of various domains
No
Yes
4.5
Collaboration between common and domain users
No
Yes
Appearance configuration
5.1
GUI languages
Yes
Yes, UNICODE
5.2
Appearance customization
Yes
Yes
5.3
Font changing
Yes
Yes
Administration
6.1
Centralized configuration of user rights and restrictions
No
Yes
6.2
User Groups
No
Yes
6.3
Obscene words filter
Yes
Yes
6.4
IP, MAC, Hardware ID filters
Yes, IP only
Yes
6.5
Anti-spam and anti-flood filters
No
Yes
6.6
User management system
No
Yes, WEB interface
6.7
Detailed reference information about users (Full name, email, phone numbers, date of birth, photo, etc.)
Yes, briefly
Yes
Operating systems
7.1
Windows
Yes
Yes
7.2
Android
No
Yes
7.3
Linux
No
Yes
7.4
Mac
No
Yes
7.5
WEB
No
Yes
Additional abilities
8.1
User network status "free", "busy", "away"
Yes
Yes
8.2
Scripting language to write simple programs which extend chat abilities
No
Yes
8.3
Integration with external services
No
Yes (1С, phpBB, REST, php, C#, Delphi, Python, etc.)
8.4
User search system
No
Yes
8.5
Tree-like contact list that is common for the whole network with an unlimited nesting level
No
Yes
8.6
Account manager for several users who work on the same program
No
Yes
8.7
User ignore system
Yes
Yes
8.8
Plug-in system to extend program abilities
Yes
Yes
8.9
Company department list
No
Yes
8.10
Company work position list with the sorting "superiors from above" in the contact list
No
Yes
8.11
Built-in forum
No
Yes
8.12
Task management
No
Yes, Kanban
8.13
Website chat
No
Yes
8.14
Distrib Maker
No
Yes
Technical support
9.1
Built-in help system
Yes
Yes
9.2
Community support forum
No
Yes
9.3
Developers support via email
Yes
Yes
9.4
Additional reference information, articles about the program use on the website, blog, etc.
No
Yes
9.5
Developers support via Skype, Viber, Telegram, WhatsApp
No
Yes
3. Recommendations on switching to MyChat
---
Why? Bingo's Chat for local networks program has no updates, no problem fixes, no support for Android and iOS. There is a version for Windows only, but no software for macOS, Linux, and WEB. The application does not work in complex networks and via the Internet. No centralized server and system for users management.
How to move to MyChat? For small companies of 20 online users, such transfer from Bingo's Chat to MyChat will be easy and affordable, because the default license of MyChat is free, with no trial period (what is the difference between commercial and free MyChat versions?). MyChat is able to work "out of the box", without special settings. MyChat Free Edition updates are free. For organizations with a limited budget, it is important.
Prices. Licenses are concurrent, for the number of online users. You buy the server only. One online user costs $6. One year of updates is free, then update subscription costs $2 for one online user per year (if you want to move to new versions). Programs that are purchased individually are MyChat Guest and Distrib Maker for custom setup files, and the Quiz bot.
Support service. We provide support during the business day. Our official support forum.
How long you've been working? MyChat enterprise messenger development started in 2004; updates are stably released 5-6 times a year. More than half a million real users from Ukraine, Russia, Belarus, Kazakhstan, USA, Canada, India, Great Britain, etc.