A lot of people consider words "communication over the Network" and ICQ as synonyms. Incredibly comfortable communication, where your interlocutor can receive a text message wherever he is.
Recently ICQ celebrated its 22 years anniversary. It's a big term for in IT environment — the whole era. This program was born in Israel, in the Mirabilis company, then its second owner was the American AOL, and finally, it's developing under the Russian Mail.ru Group.
There were times of competition between ICQ and Mail.ru Agent, but the company owner decided to develop ICQ only. They stopped Agent releasing and combined user databases of both programs — ICQ and Mail.ru Agent.
People are constantly searching for the alternative to this program that is still quite good, to be honest. Except for the fact that ICQ is free and has many services and useful features, there are problems that cancel the whole convenience.
What is ICQ problem?
---
The program needs the Internet. It's a must, no exceptions. For a home or mobile user, it does not seem to be a problem. However, it's unacceptable for the enterprise. Why? Here are some examples:



Employees start wasting their work time in silly conversations with friends where they are sharing some jokes, photos from vacation, etc.
Increased risk of being "infected" by a virus or malware from the Internet after clicking on a link and launching malicious software. Social engineering in its finest form.
Increased chances of losing confidential information that is not allowed to be public.
Employees can't be controlled which is very important for the security service. It might be not ethical but the company reputation is far more important than private conversations of your employee.
Usually, such programs as ICQ has a lot of spam and malicious websites. It deals with a big range of prevalence and absence of reliable protection from spam. It should be mentioned that new versions of a program do not have advertisings but spam is still present.



ICQ is not flexible. You can't edit, administer, forbid or allow anything. You can't limit rights to access some functions. You can't forbid communication with the external world. You have to use what is given with no chance to do something. This is inappropriate for the enterprise network.


Forget about confidentiality. All your conversations, transferred files, icons, IP addresses that you used for connecting the Network, MAC addresses of network cards, personal data in the ICQ profile, geographical positions — everything is logged and stored. If somebody influential requests your data he will get it. You know how this unpleasant fact can impact the business environment. Moreover, all traffic that is transferred via ICQ is stored on Mail.ru company (only for the message history synchronization, yeah ☺).
What can you do?
---
The best solution for all above-mentioned issues would be to install the ICQ server in your network. But the problem is that the ICQ server is impossible to get because of well-known reasons. Besides, even if you had it it would be a tough challenge to install and manage the server.
On the other hand, you can find a lot of free software that can be configured at your taste. But, you will have to forget the phrase "developer support" — there is such. The program is free and all the responsibility falls not on the developer but on that person who installed and configured it.
So, what solution takes action here?
Quick and secure solution
---
The right option is to get own messenger where all your employees are in a local network or can connect to the company server over the Internet.
In this case, you won't be linked to external services of the Mail.ru — your conversations, files, and images will be stored on your server. This is a company property, after all.
Encryption, centralized administration, applications for Windows, macOS, Linux, and Android. Also, the WEB version to enter the chat from a browser is compulsory.
Quite a good choice — MyChat corporate messenger: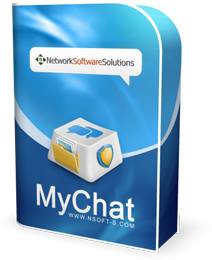 A pleasant bonus — this program has a free edition for 20 online users which is a leading factor for a small company.
Like any other modern messenger, MyChat has private and group dialogues, file and image transfer, voice and video calls.
Helpful office features such as Kanban project management.
Our support team is always ready to help you; new versions are released several times a year.
In general, it is a fully-functioning and serious enterprise messenger for people who realize the importance of security in a workplace and risk of using such public messengers as ICQ, Skype or WhatsApp.