1. A brief review on V-talking
---
V-Talking is a server messenger for offices. The program works in the internal enterprise network. It functions in local networks and via the Internet; also in complex, multi-segment company networks via NAT.
Unfortunately, this internal chat is no longer updated: the very last version of V-talking Server 2.3.2 released on June 6, 2011. The client version 4.3.1 was updated July 19, 2011.
Official website and forum do not work since 2011. However, there is no website and forum anymore, this information we got from https://web.archive.org.
The chat has text conferences, private messages, built-in forum, file and image transfer. There is also a quite simple Admin Panel, but we will mention it later.
2. Problems in V-Talking office chat
---
Back in the days, T-Talking was perspective corporate messenger with its built-in forum, file storage, and client-server technology.
Unfortunately, the Incremental Software Company couldn't bring it to the next technology level and stopped the development.
Companies that have bought this software and those who are using VT free version should look for an alternative.
2.1. UAC, digital signature, and elevated privileges
---
The program does not have a digital signature nor in setup files neither in the client: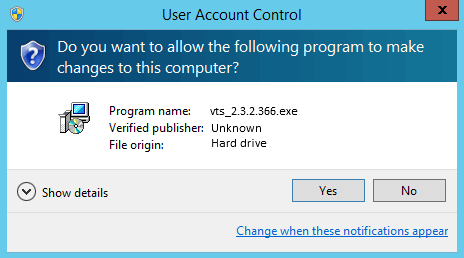 It automatically creates problems in corporate networks and decreases trust in this software for administrators and antivirus software. Nobody wants to risk.
Besides, the client application requires elevated privileges for its installation and is installed to the C:\Program Files (x86)\V-Talking 4" folder by default: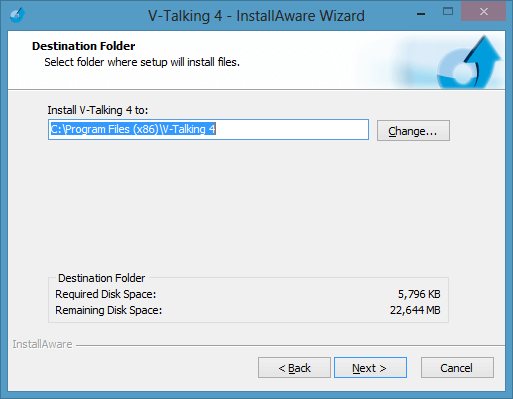 In other words, without administrator rights, you can't install the client. Moreover, the V-Talking server does not add itself to the Windows Brandmauer exception list: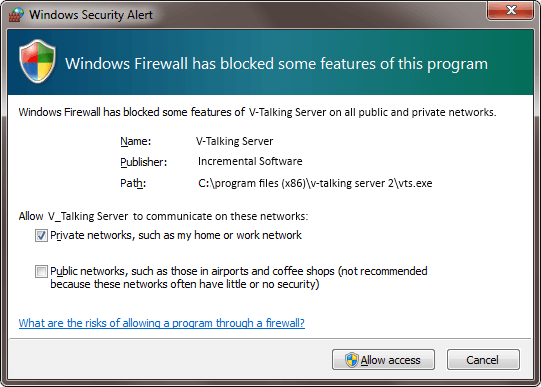 The Help is not working. The link is opened in a browser but the website is not working: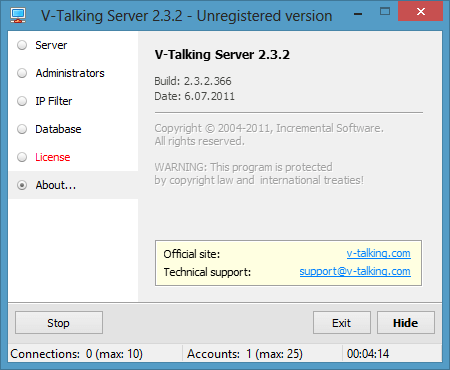 2.2. No support for UNICODE
---
V-Talking does not work correctly with symbols of national alphabets. Otherwise, when you insert text to the chat, you will see the following: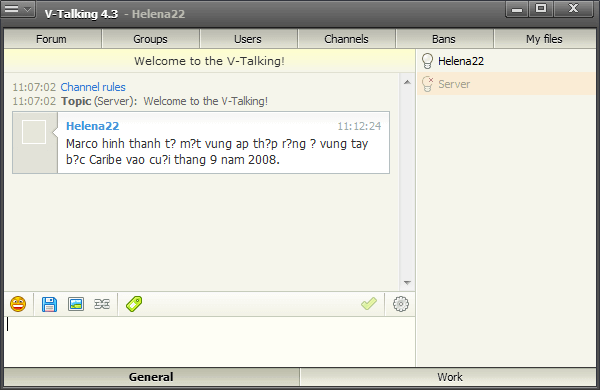 There are problems with copying and inserting text from other programs: often the line from the clipboard transforms into a mess like "????????? ?? ????? ??????? ???????". V-Talking does not have a solution to this problem.
The program interface localization is for a couple of languages, but those texts are in the win1251 encoding. When you launch the program on non-English language system or altered system locale, you will see symbols even if the interface language was switched to the English language.
2.3. V-Talking Server does not start
---
Uncommonly, but the V-Talking server does not start on modern Windows OS. Find its icon in the "Start" menu and click on it: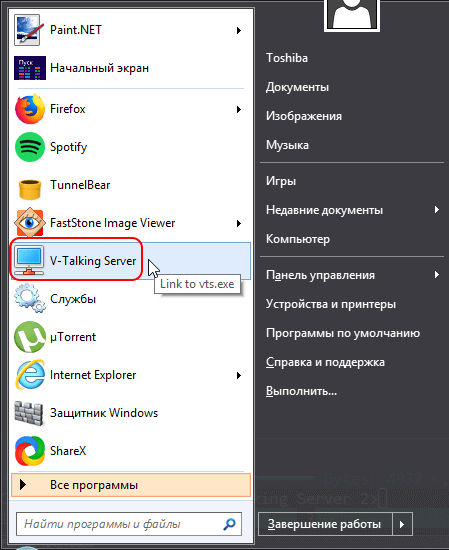 …And nothing happens. The application does not start: no messages, no logs. It's turned out that it should be launched on behalf of the Administrator! And you have to configure it as the program doesn't make any actions for this. There is no special manifesto in V-Talking server that requires UAC Elevation.
2.4. The divergence of the server databases

---
Because the server stores its data in the "C:\Program Files (x86)\V-Talking Server 2\Data\", Windows virtualizing this folder and its content:

However, if you launch V-Talking Server as a system service (and services by default are executed on behalf of the system user), the databases won't be virtualized. The server will start work with the original in the "C:\Program Files (x86)\V-Talking Server 2\Data\".
Because of this omission, you have two different versions of the program database. Such "bug" is difficult to catch.
There is no solution to this problem: this is an architecture problem of V-Talking intranet messenger.
2.5. The program does not memorize its screen position
---
After a restart, the client application is always located on the monitor's left side. And if there are several computers within the system — the application ignores it, even though the size of its window remains the same.
2.6. Interface problems
---
Here we have too many nuances that are uncommon for the program of corporate level because such software has many users and omissions like this are fixed during the years of using.
Rendering issues of the message window — white stripes in the monitor's center: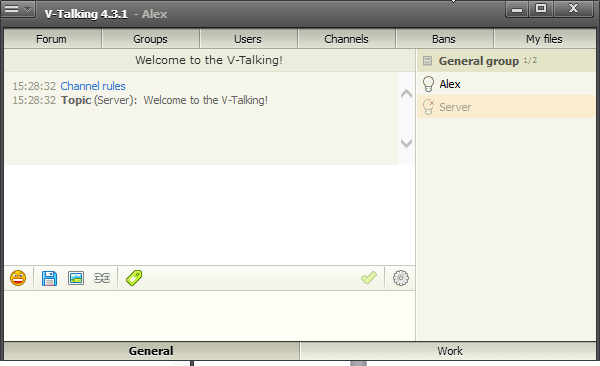 Message history spontaneously disappears from the conference window, although it remains in the history: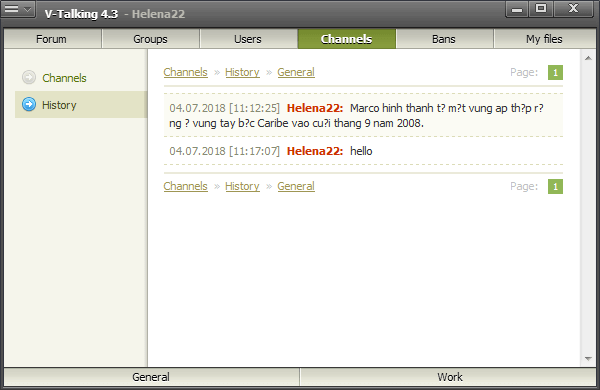 Server management does not work from the client application: it says that access is limited, but the server allows one connection from 25 available in the trial version: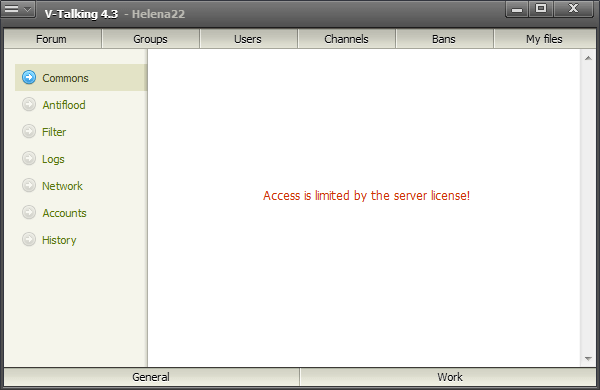 You can't get to these settings, because the server admin panel does not have them, and the client application limits access even though you have administrative rights.
For any actions such as adding something (a conference, user or message to the built-in forum) you have to point the mouse into input fields because there is no automatic focus!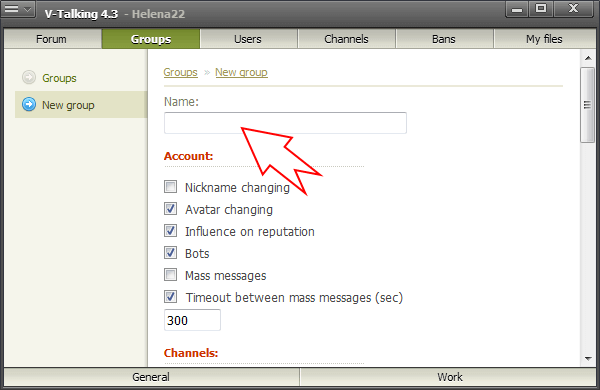 Moreover, with the Tab button you can move through the interface elements, but in the end, the focus disappears and never returns. You will have to take your mouse again and point into the needed button, checkbox or input line.
2.7. Unnecessary duplicates of files
---
Downloading of files works incorrectly: a file is downloaded from the server, again and again; the program creates duplicates and stubbornly writes the same file on the disk and takes space with identical copies. There is no control for checksums or size/name matching: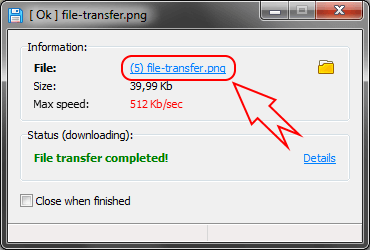 2.8. Free space consumption for image storage
---
The V-Talking server creates image caches but not in the best possible way.
For example, a 60 kilobyte sized PNG-file transforms into BMP but with the size of 360 kilobytes. It means that the file automatically increases by six times!
Imagine, what can happen, if one hundred users will be connected to the server.
It's not just suboptimal but incredibly wasteful.
2.9. Security issues: full access to the file server
---
File transfer is not encrypted as the regular FTP protocol is used. If you take sniffer you will see a user login and password: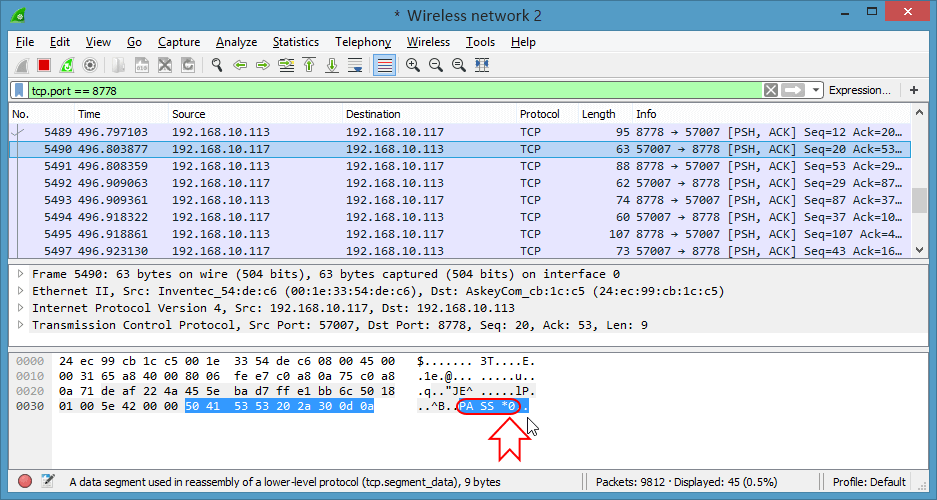 This login and password are not sessional! If you take any FTP client, connect at any time to the V-Talking file server under the specified login and password of two symbols "*0" — and get full access to ALL files that users uploaded on the server.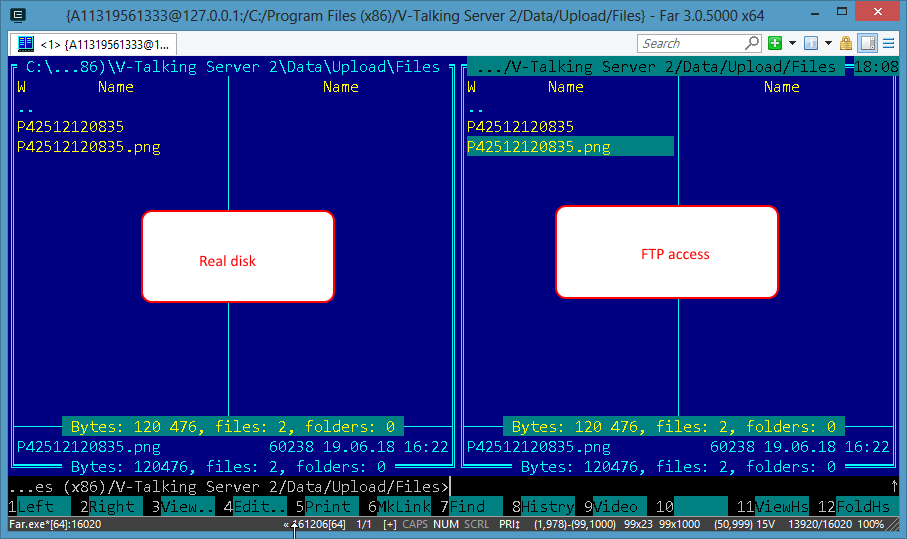 Besides, the built-in FTP server reveals the real file location on the server disk: "C:/Program Files (x86)/V-Talking Server 2/Data/Upload/Files".
You can delete, replace, and upload new files… Full and non-limited access.
2.10. V-Talking does not work in the terminal server environment
---
Apparently, the developer of this messenger had a plan to support terminal servers, but it didn't work out. It turned out that it's impossible to make the client application to work correctly.
2.11. Uninstaller does not delete all files
---
The server and client uninstaller leaves files that were created during the work: databases, caches user files, images, etc.
These are folders C:\Program Files (x86)V-Talking 4", "C:\Program Files (x86)\V-Talking Server 2" and "C:\Users\%USERNAME%\AppData\Roaming\Incremental Software".
The content of those folders you will have to delete manually after the work of V-Talking regular uninstallers from the system applet "Programs and features".
3. Comparison of V-Talking and MyChat corporate messenger
---
Take into the consideration three main facts:
V-talking development stopped in 2012. If you are still dealing with this program — look for a good alternative.
V-Talking does not have versions for Linux, macOS, Android, and WEB but Windows version only.
A lot of security problems that call into question the possibility to use V-Talking in a company, especially over the Internet.
In the table below we compared basic functions of V-Talking version 1.2.35 and MyChat 7.0 (free version) on June 20, 2018.
№
Ability
V-Talking
MyChat
Installation, uninstallation and update system
1.1
Installer
Yes
Yes
1.2
Uninstaller
Yes
Yes
1.3
Automatic Installation
No
Yes
1.4
Automatic updating system
No
Yes
1.5
Automatic updating and saving of all the data when installing the latest version over the old one
No new versions
Yes
1.6
Portable version
No
Yes
Network abilities
2.1
Work in large networks
Yes
Yes
2.2
Work in complex networks and via the Internet
Yes
Yes
2.3
Guaranteed message delivery
No
Yes
2.4
Work in terminal sessions
No
Yes
2.5
Traffic encryption
Unknown,unreliable
OpenSSL, industrial standard
2.6
Work in very bad networks (satellite connection, "long" pings)
No
Yes
Default functions
3.1
Private messages
Yes
Yes
3.2
Text conferences
Yes
Yes
3.3
Notifications with a return receipt
No
Yes
3.4
Common Bulletin board
No
Yes
3.5
File transfer
Yes
Yes
3.6
Images transfer
Yes
Yes
3.7
LAutomatic backlight for links in a text
Yes
Yes
3.8
Messages history view
Yes
Yes
3.9
Event sound notificaton
Yes
Yes
3.10
Personal contact list
No
Yes
3.11
Sending messages and files to offline users
Yes
Yes
3.12
Graphic smileys
Yes
Yes
3.13
Voice calls
No
Yes
3.14
Video calls
No
Yes
3.15
Screen sharing
No
Yes
Active Directory integration
4.1
MSI package to deploy users via Group Policy
No
Yes
4.2
User transparent authorization
No
Yes
4.3
Importing users from the Windows domain
No
Yes
4.4
Support for any amount of various domains
No
Yes
4.5
Collaboration between common and domain users
No
Yes
Appearance configuration
5.1
GUI languages
Yes, non-UNICODE
Yes, UNICODE
5.2
Appearance customization
Yes
Yes
5.3
Font changing
Yes
Yes
Administration
6.1
Centralized configuration of user rights and restrictions
No
Yes
6.2
User Groups
Yes
Yes
6.3
IP, MAC filters
Yes
Yes
6.4
Anti-spam and anti-flood filters
No
Yes
6.5
User management system
Yes
WEB interface
6.6
Detailed reference information about users (Full name, email, phone numbers, date of birth, photo, etc.)
Yes, simplified
Yes
Operating systems
7.1
Windows
Yes
Yes
7.2
Android
No
Yes
7.3
Linux
No
Yes
7.4
Mac
No
Yes
7.5
WEB
No
Yes
Additional abilities
8.1
User network status "free", "busy", "away"
Yes
Yes
8.2
Scripting language tow write simple programs which extend chat abilities
No
Yes
8.3
Integration with external services
No
Yes (1С, phpBB, REST, php, C#, Delphi, Python etc.)
8.4
User search system
No
Yes
8.5
Tree-like contact list that is common for the whole network with an unlimited nesting level
No
Yes
8.6
Account manager for several users who work on the same program
No
Yes
8.7
User ignore system
Yes
Yes
8.8
Plug-in system to extend program abilities
No
Yes
8.9
Company department list
No
Yes
8.10
Company work position list with the sorting "superiors from above" in the contact list
No
Yes
8.11
Built-in forum
Yes
Yes
8.12
Task management
No
Yes, Kanban
8.13
Website chat
No
Yes
8.14
Distrib Maker
No
Yes
Program user technical support
9.1
Built-in reference system
No
Yes
9.2
Community support forum
Does not work
Yes
9.3
Developer support via email
No
Yes
9.4
Additional reference information, articles about the program use on the website, blog, etc.
No
Yes
9.5
Developer support via ICQ, Skype, Viber
No
Yes
4. Recommendation on moving to MyChat
---
V-Talking has not been developing for a long time; no solution for old errors, no support for Android, iOS, macOS, Linux, and WEB. The program replacement is just a question of time.
It will be easy to move from V-Talking to MyChat because for small companies up to 20 online users there is a free standard MyChat license with some insignificant limits (what is the difference between commercial and free MyChat versions?).
For bigger enterprises with 20 users and more, you should compare prices of MyChat closest competitors such as Skype for business, Slack, or TrueConf.
The MyChat license agreement is quite loyal. One online user costs $6. Starting from the date of purchase you get one year of free updates and then you can chose whether to pay $2 per user or stay on the existing license for an unlimited amount of time (the server will still work). Notice that almost all MyChat Services are included in this price (except MyChat Guest and Distrib maker).
MyChat has a long development history since 2004. New versions are released 5-6 times a year.
Take advantage of the speed and quality of the MyChat official support forum. Our team is always ready to help you!