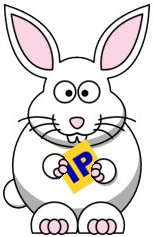 IP address (wiki) — a unique identifier of a computer that is connected to a local network or the Internet.

What is it for?
IP address allows other computers that are united into a network to connect with your computer: send messages, exchange files, etc. It's not that easy as it seems though.

What is an "external IP address"?
It's the same IP-address but UNIQUE for the whole Internet network. There is a limited number of such addresses and they have to be registered in a special way.

What is the difference between an "external" and "internal" IP?
If your computer has an external (or "white") IP address, then it can simply become a server. It means, that you can connect to it over the Internet that is impossible if you have a regular IP address that is assigned to all computers in local network. For example, you can easily scroll through web pages from your home but you can't connect from your workplace to home computer for using a web camera or remote help.

Advantages of an external IP address
Unlike of internal IP address, external IP address has many advantages: some of the file-sharing services do not allow to download information without a specific external IP address. If you don't have it, then one address is distributed for several users — in this case, it becomes difficult to download files due to the service limitations or high overload. With external IP address, those services will work to the full extent and allow to download files easily at high speed.

External IP — one of the main demands for organizing online games, if you want to install a gaming server on your computer, for example LineAge, Counter-Strike or Quake. Users always can connect to you over the internet and take part in all gaming battles.
Besides, if you use file-sharing services for downloading files like DepositFiles, you can see a message that there is a downloading from your IP address and you have to wait for someone to end downloading files. Why is this happening? Because most providers "release" users through one or couple IP addresses using NAT. If you have own white address you won't get such situation.

With external IP address, you can use your computer as a host to your website or server for various services, for example, MyChat corporate messenger.
Also, possibility to manage your work or home computer remotely from any place of the world is provided via Microsoft Remote Assistance.

How much it costs?
As a rule, the service for external IP address is chargeable but cheap. You can learn more from your provider — most of them should provide such services.
Dynamic external IP address
Another variant when you have an external IP address, but it's dynamic. It means, that a provider gives you any available address during connection. In this case, for correct work of the Internet services on your computer, you have to use No-IP or DynDNS.