Unbelievable, how messengers have an impact on the rapid growth of business communication over the internet. Entrepreneurs pay attention to marketing on Instagram and Facebook. Simple and available messengers allow communicating with each other at any time.
Recently, we see more news about personal data breaches, but people persistently continue using services that let them down so many times. Businessmen whose work deals with marketing and sales do not have too many options. These people skills are sharpened to understand customer behavior on social media.
Advertisers visit courses to learn marketing on Instagram and Facebook. They can't say no to social networks — it is almost a tragedy. Only in 2019 the number of exchanged messages in Facebook messenger between entrepreneurs and customers exceeded 20 billion.
This is already a stable system for information exchange that will never disappear unless something bad would happen that forces guilty services to shut down. One of the latest "surprises" — Facebook data breach for half of a billion users. The dates of birth, phone numbers ended up in public. Unclear how more epic another breach must be for people to start to evaluate their time and privacy.
The situation in a corporate environment is quite better: business communication rarely leaves company network borders, and external access is under control. It must be at least. However, this field also deals with unpleasant situations.
For example, in 2020, 49.5% of hacker attacks targeted the following types of industry: industrial enterprises (19,5%), finance and insurance (6.2%), education (7.8%), social defense (11.%), manufacturing (4.2%). These attacks happen now too, but people continue working with the same software as usual.
Developers add features to make programs more secure, but it does not help, and sometimes it gets even worse. The systems are located on technical platforms of several companies and users have to connect to closed "black boxes" hoping their data is stored properly.
So why do people ignore other means of communication that can make their work easier and save the nervous system? It's all about habit. The experience shows us that users persistently protect things they work for a long time with: they do not care about privacy issues, do not bother with feature flaws.
Only the absence of prompt support from developers of the abandoned software that seriously fails can be a reason to search for a new messenger. And only because corporate software is basically "dead" and impossible to resurrect.
But there is another reason — the price. As a rule, large enterprises, purchase licensed software but even the subscription on such collaboration tools as Slack does not save from hackers.
In 2015, unauthorized login to Slack's database cause a personal data breach. They promised to improve the security measures, but after 4 years it turned out that they decided to reset user passwords after receiving account data in their bug-hunting program.
We have no reason to believe that any of these accounts were compromised, but we believe that this precaution is worth any inconvenience the reset may cause.
Facebook representatives said similar things after huge scandals. People have to deal with it because everything is configured and money is already spent. Understand and forgive.
Open-source
---
One may say, "But Slack Is NOT open-source, and this is the problem!" For your knowledge, for example, Slack in his deb package attempts to insert a shell script into cron on behalf of root (code comments say it is for refreshing itself in the list of sources for the package manager if the entry is commented when updating the system). But, as usual, adding itself to the source list allows Slack Inc. to rewrite any file in the system including sshd or bash.
And here is where an endless battle between supporters of open and closed code. Interestingly, that apologists of open-source sometimes agree that open-source software is not the best option for exchanging important information in a business environment. The main advantages of open-source are considered to be the following indicators:
availability;
flexibility;
reliability;
security.
A lot of attention is directed to the last item on the list. Network Software Solutions team had to face people who repeated that if an application is closed and you can't "explore" it then the conversation about privacy is useless. Such people have not dealt with software administration in large companies where intruding into the code of a program that works with confidential information is prohibited.
Availability is also a controversial thing. We have Rocket Chat that charges $36 per user per year without giving an opportunity to stay on that program version that fully satisfies you.
Mattermost charge $120 per user per year. Perhaps, for some serious enterprise, these prices are not that expensive but there are other alternatives — more cheaper and reliable.
Write a code, improve an application... These things attract enthusiastic programmers in open-source. But such features are no longer an open-source advantage. Some developers of the proprietary software extend its features with the help of scripts and plugins. This removes unnecessary interference and useless experiments and adjusts the application according to a company's needs.
Mass testing is another advantage of the open-source. Quick feedback helps to fix software, but malefactors use this for exploring flaws for new attacks. It is a stick with two ends.
Not all but most of the open-source software suffer from a lack of proper support, which contradicts with the word "reliability". Yes, there are some exclusions. But users start searching for an alternative for a product that is no longer supported due to lost interest, lack of money, or time.
Corporate software for business communication
---
The application with closed code MyChat was created by Network Software Solutions company in 2004 for communication in regions with unreliable internet connection.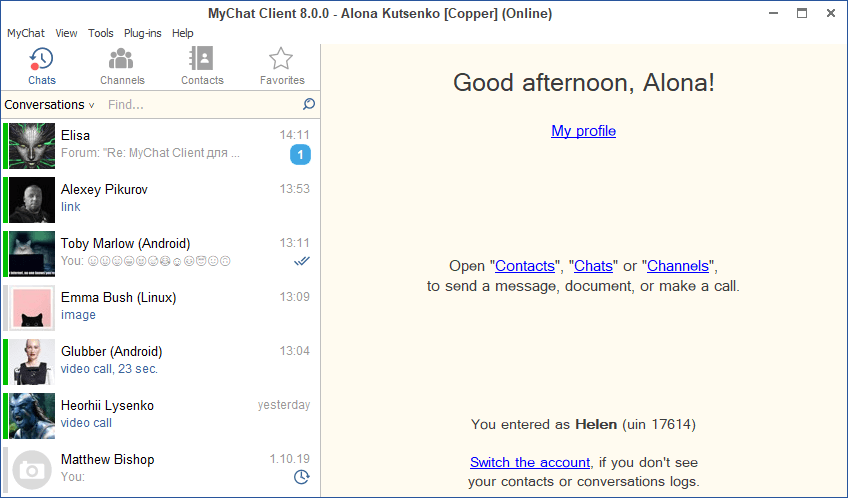 In 2021, this tool unites features of open-source and proprietary software for exchanging information within company networks. The developers stick to the balance between flexibility and security. Administrators can modify and complement the logic of the messenger work by using a script engine that is built-in in the server.
Features
---
MyChat Server works both in local networks and via the internet. A company administrator creates a closed safe environment where he can control employee actions and organize workflow according to company management needs.



Integration with Active Directory, Asterisk, Telegram, REST, phpBB, GeoIP, 1C, Java, Python, C#, Delphi.


Project management and task tracking for employees on the Kanban board.

Internal forum is optimized for sharing knowledge and exchanging documentation (images, programming codes, video, guides).



Calls in Windows, Linux, macOS, smartphones, tablets, WEB browsers. They work via a local server (without third-party interference) using WebRTC technology.


Own FTP server for storing files.


Prices
---
The price is only for online users: 1 connection to the server costs $4 forever; the purchase of the commercial version starts from 10 connections. After one year there is an update subscription available — $2 per one user. КThe customers choose by themselves: whether to stay on the old version without technical support or update to the latest version.
Platforms
---
Windows, Linux, macOS, Android, and WEB (iOS is coming :)).